CUBAN FEEDBACK SINS
It's kind of weird writing your own bio, especially when you haven't really 'made it' to the usual degree that would call for one, but here goes.

I was born in 1962, in Easton, Pa. at the outset of the Cuban Missile Crisis. As a kid, I remember thinking the Beatles were the only group in the world, and listening to my brother's copy of the White Album,especially "Revolution #9".

The '70's and school seem like something of a brownish-orange abstraction to me now, althoughI do have that era to thank for a good deal of the,shall we say, grist for my mill. Then I discovered punk rock, the NUGGETS LP, and the liberating possibilities of guitar feedback, which helped a little.

Eventually (1983?)I got enough nerve to join a 'band', Senseless Hate, which played Mentors and Angry Samoans covers. That sort of led to playing guitar with the Creatures, a '60's garage revival act I was with from '85 to '87, and then again from '98 to the present. I wrote a number of songs for the band, and still do.

While still in the Creatures I started another band called the Original Sins, with Dave Ferrara (dr), Ken Bussiere(bs), and Dan McKinney(or)and me as lead vocalist/guitarist. I wanted the group to kind of merge pop and garage/punk, taking inspiration from the Lyres, Buzzcocks, Stooges, and that whole 'Paisley Underground' thing from the early '80's. A friend sent a Sins demo to his brother who happened to be starting up Bar None Records, and they were impressed enough to put out a 45 and an LP, BIG SOUL.

The Sins really seemed like they were going places at first. We got good write-ups in Rolling Stone and Spin, opened for the Replacements, Ramones, and the Kinks, among others, had an album (1991's MOVE) produced by Pete Buck, even got a few videos played on MTV's "120 Minutes". But we never really took off, for one reason or another.

The Sins did manage to get alot of albums out, about one a year from 1987 to 1999 (see DISCOGRAPHY), and I'm pretty happy with that legacy, though I hope more people will be exposed to the music someday.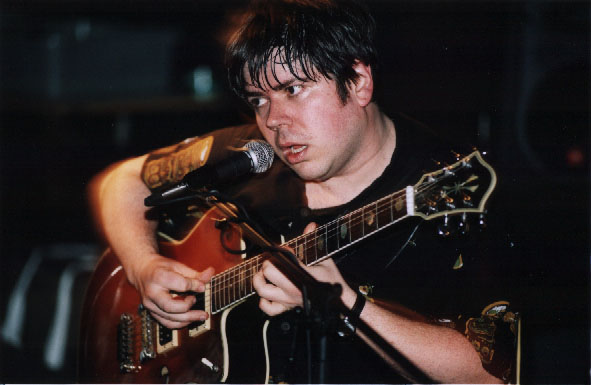 O BROTHER WHAT ART THOU?
Around 1990 or so, convinced I was dying of some imagined cardiovascular disorder, I recorded a long,tortured collage of feedback and groaning, inspired by John Coltrane's ASCENSION and the story about Jesus descending into hell to free the saints or something. I called it "Descent" and sent it toa fellow I thought would appreciate it.
He appreciated it enough to send it to TwistedVillage Records, who released it as an LP, underthe name Brother JT--perhaps suggesting the recording was the work of some twisted, defrocked monk.
I had always loved both pop music and heavy psychedelia, but found it hard to work such sensibilities into the Sins' live-set-based, rock 'em, sock 'em ethic. The Brother JT persona afforded me the opportunity to explore where those seemingly incongruous lines could meet.
With that in mind I started doing solo records, ranging from poppy psych ("Meshes of the Afternoon", "Rainy Day Fun") to all-out acid channeling ("Holy Ghost Stories", "Come On Down"). By the mid-'90's Brother JT was playing live with group of musician friends from Philadelphia under the name Vibrolux, after my long-suffering Fender amplifier.
BRJT & Vibrolux put out a few albums and did a little touring, including a nationwide stint with the very charming Bevis Frond. Somewhere along the way we crossed paths with the Royal Trux, who generously offered to produce a Brother JT record set to be released on the estimable Drag City label. By then Vibrolux was no more, and I enlisted the aid of original Original Sins drummer Dave Ferrara and ex-Crack Baby and all-around good fella Bill Melcher on bass to do the album, as Brother JT 3. The result was WAY TO GO, which came out in fall, 1999. A song from it, "Little Did I Know", was evidently used on the soundtrack of the John Cusack vehicle, "High Fidelity", though it's not easy to hear. Some of the money garnered from that good fortune allowed me to do some home recording during 2000-'01, yielding MAYBE WE SHOULD TAKE SOME MORE, kind of a fuzzy documentary of my dissolute life- style at the time (unlike now, heh heh).SPIRITUALS, produced again by Neil Hagerty, was recorded with the 3 + Jamie Knerr on additional drums around September '01,and hopefully clears things up a little. Both records were released in 2002.
Boy, that was painful. The overwhelming sense I get is that I've written far too many songs for anyone's good. I do feel grateful that people have been nice enough to put so much of it out, whatever the fiscal results. Maybe there is some value there after all.