No news is no news (gigs, etc.)
I'm pleased to mention that Brother JT's 2001 release on Birdman Records, Maybe We Should Take Some More, is now available via the very popular online music store, ITunes (www.itunes.com) , with the prospect of the three Drag City albums joining it there in the near future. I have been trying to get some of the Original Sins old catalog onto the web as well, but I can't seem to cram those big vinyl records into my monitor.
More successful endeavors have included Brother JT playing guitar with the fine, New Jersey-based group, Elk City for some time now. Aside from currently recording an album together, the trio plays out in the NYC area every now and then, with details of such events provided at www.elkcity.net .
In what might be considered 'news', the attempts at 'sprucing up' this website continue: an artwork page has been added, where a few stabs at painting have been archived, and what was once the band photo page has been re-titled 'The Auxillary', while the 'Gallery' page will now feature non-musical type photos by yours truly & Miss April Bartholomew--all in an effort to share with the world at large some more evidence that's it's not all just in my head.
Not to belabor the point, but Drag City Records released Brother JT 3's latest recorded effort, Hang In There Baby, in November, and if I'm not mistaken there are a few copies left here and there (this is an attempt at levity and has no reflection on the bitter, awful truth). It can be found at a number of places, including www.bn.com and www.midheaven.com , and you can also visit www.dragcity.com for other info.
A couple of new CDR's are seeing the light of day as well : Sliced, Diced & Spliced is a document of Brother JT 3+1 performing at Princeton, N.J.'s fine radio station WPRB, 103.3 FM. It was a nice set, but the vocals didn't come out well, so I took the liberty of cutting them out, and cross-fading the instrumental portions together, approximating a 37-minute guitar solo. Descent/Meshes pairs Brother JT's first 2 solo albums on the Twisted Village label from the early '90's (pressed on vinyl in very low quantities and long out of print). Though I no longer have access to the original master tapes, I remixed the long, damaged pieces a while ago and they sound about the same to me (but what do I know?). Side 2 of Descent, "Kaballah", had to be taken directly from vinyl, hence the occasional pops and clicks--you can just pretend the singer is frying in hell if you want.
So, if the idea of relentless, saucer-eyed acid-rock jamming (Spliced...) or 20 minutes of groaning feedback (Meshes...) sounds like fun to you, please feel free to email me at brojt@rcn.com and I will gladly hook you up with these archival oddities.
You can learn more about other items that may be available by clicking the cleverly titled 'Discs,etc.' page to your left, over there somewhere.
Hopefully you can check out the details of some of the groups, labels, etc. mentioned above via a new Links page, and thank you(whoever's there)for your patience with this shaky little ship.
Brother whaaa?
I'm a musician who has been involved in magnetic recording pursuits since the early 1980's.In the process I have somehow managed to get out about two dozen albums on various labels,under various names--some of which were actually sold.As such, I thought it might be nice to come up with a kind of central directory for those interested in obtaining more information or wishing to contact me for one reason or another.But that would have been alot of work, so this will have to do.
You look tired, can I get you something?
I clearly don't know what I'm doing here, so please excuse the site's disheveled appearance.It's probably because I am a DISHEVELED PERSON. You might note, however, that I did tear myself away from my usual blissful stupor long enough to patch together a new page of amusing press quotes,add a few pictures, and who knows what else.
This might be a good place to mention that the photography displayed throughout is by April Bartholomew, a very talented young lady indeed.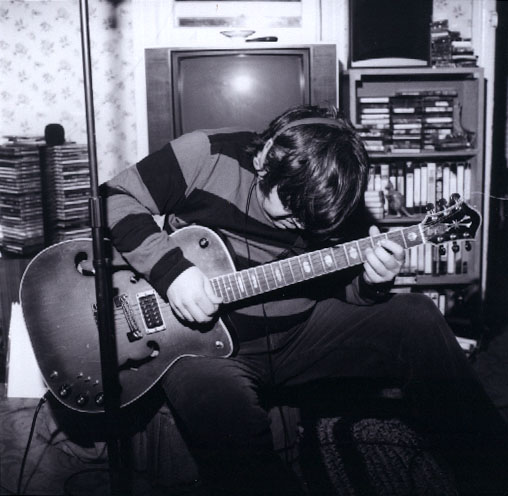 Brother JT likes nice people. Brother JT likes to get e-mails from nice people.
Some folks have reported difficulty when clicking the email link below, so if you wish you could just write to me directly--my address is: brojt@rcn.com
Sorry for any inconvenience.
Send an email